We made a huge splash in lakeside living. We gave new life to a retired Boy Scout camp and reenergized one of the nation's largest home tours. We've created glossy community magazines, helped launch multiple new MPCs and helped build the business for some of the nation's most respected developers of home brands. When it comes to real estate advertising and marketing, Freed has the experience and expertise it takes for your communities to thrive.
BUILDERS
Darling Homes
Brohn Homes (Greater Austin)
DR Horton
Lennar
Village Builders
NuHome
Ravenna Homes
Bavaria Homes
Centex
Drees Homes
DEVELOPERS
Johnson Development
Cross Creek Ranch
Fall Creek
Grand Central Park
Sienna Plantation
Riverstone
Taylor Morrison Communities
Bonterra at Woodforest
Bonterra at Cross Creek Ranch
Toll Brothers Land Development
Woodson's Reserve
Rise Communities
Cane Island
Meridiana
Caldwell Companies
Great Oaks
Mission Ranch
Towne Lake
Willowcreek Ranch
Bridlecreek
Wilbow Development (DFW)
The Knolls at Solana
Riverset
Llano Springs
Fairway Ranch
Meridian at Southgate
Windhaven Crossing
Inspire Communities
Oceanway
Rockrose Ranch
Munds Park
Other Communities
Aliana
Firethorne
Oaks at San Gabriel (Georgetown)
Raleigh Creek
Sedona Lakes
Trinity Oaks
The Woodlands
Lakes at Creekside
Woodridge Forest
Dunham Pointe
The Trails
REALTORS®
Keller Williams SW
Susan Greer Group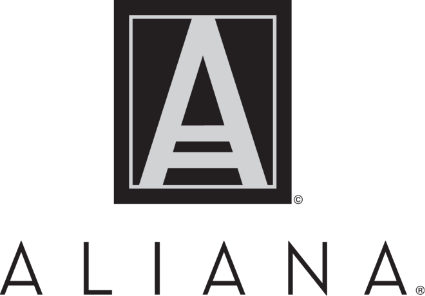 Aliana
Richmond, TX | Airia Development
CHALLENGE
Aliana was experiencing a downtrend in home sales due to increased competition in their area.
Solution: Two targets, one bullseye.
Freed recommended Aliana launch a multi-tiered digital campaign in support of their Spring promotion. We included a two-pronged approach that ran for two months targeting Prospective Home Buyers and Realtors. Freed combined behaviorally targeted digital banners to prospective buyers with Realtor® targeted e-blasts showcasing the wealth of builder incentives and new inventory.
Result
67% increase in website traffic compared to two months prior to campaign launch; 54% increase in website traffic Year over Year.
Increase in Sales during the two-month campaign, outperforming sales for the same time period in 2017 and 2018 by 15%.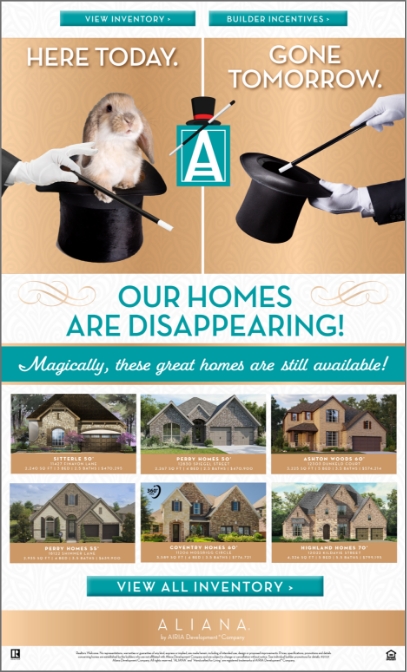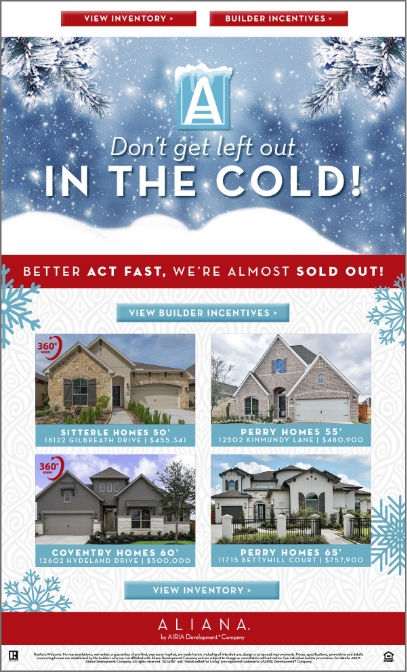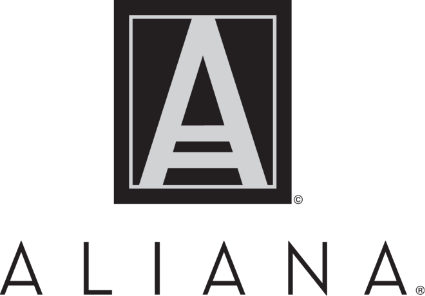 Aliana
Richmond, TX | Airia Development
Challenge
Aliana, a 2000-acre master-planned community in Fort Bend county broke ground in 2008 with a shaky start due to the original developer's lack of experience in the Houston MPC market. He installed amenities that were not on-target for the typical home buyer and was unable to attract Class A builders. Realtors and residents of the area formed the opinion that Aliana was a failure. This was the situation inherited by the new team hired in 2010 to "fix" the project. The Marketing Director tapped Freed to rebrand the community and develop strategies that would attract core audiences.
Solution: A spectacular re-grand opening with grand results.
Freed's challenge lay in developing a concept that would attract even the skeptics – the area residents and Realtors who witnessed the community's demise. Freed advertised the re-grand opening of Aliana with a 12-home Model Home Village tour made special by backyards uniquely merchandised with a different outdoor living theme. Ads and outdoor were designed to convey all the excitement of a can't-miss event. The colorful and eye-catching graphics were consistently used in every medium utilized to promote the event.
Result
Despite inclement weather, the two-weekend re-grand opening event was attended by thousands of potential home buyers. In addition, during 2012, Aliana won 20 awards for marketing and development, and broke every goal and record for sales
Public attendance: 75% above goal
1Q12 Home sales: 113% over prior year
1Q12 Foot traffic: 154% over prior year
1Q12 Realtor traffic: 277% over prior year
1Q12 Website traffic: 219% over prior year and traffic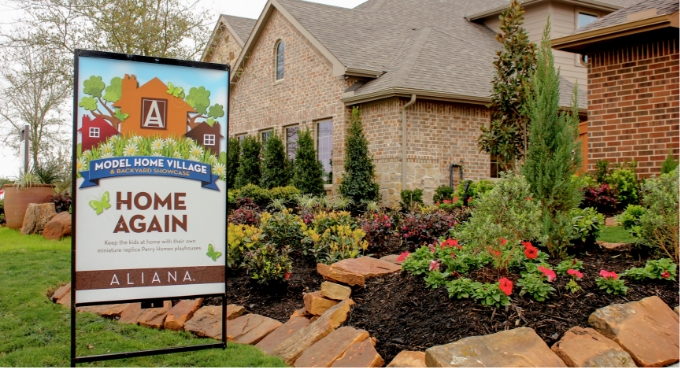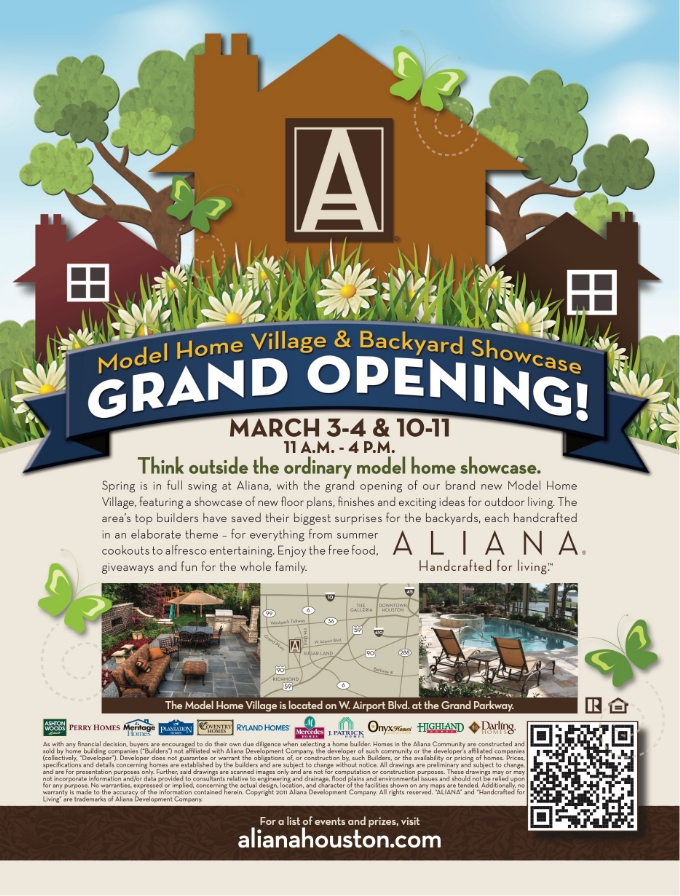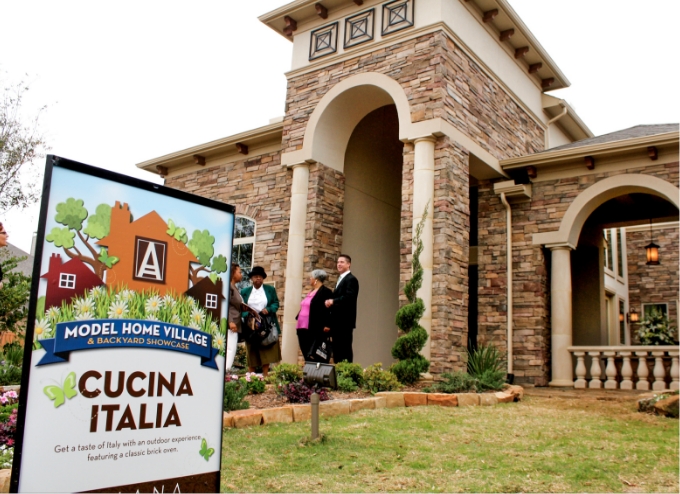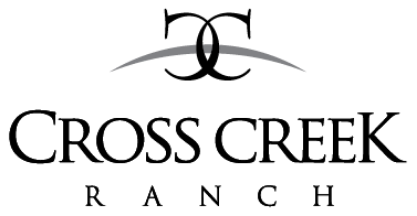 Cross Creek Ranch
Fulshear, TX | Johnson Development
Challenge
Cross Creek Ranch was getting a new neighbor, a shiny new master-planned community, which they feared would steal sales from their more established development.
Solution: The here and now
After touring both properties, it was obvious that their neighbor was years away from having amenties in place. Sure, they had a splashy entrance, but CCR had a splash pad, pool, amphitheatre, trails and more already in place and in use. Creative featured a Right Now message, pointing out that right now CCR residents are enjoying an enviable lifestyle, and not waiting for promised amenities to be built. In addition to a website redesign and new Welcome Center displays, media included billboards, digitial ads, and area publications all touting the Right Now message.
Result
Sales didn't sink, they soared. Cross Creek Ranch became one of the Houston area's best selling communities.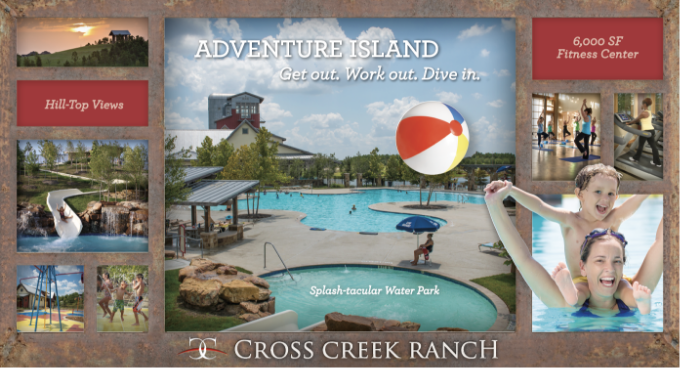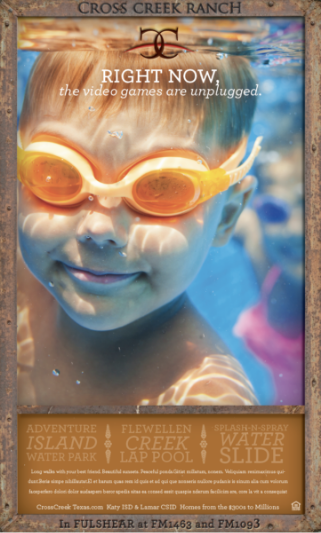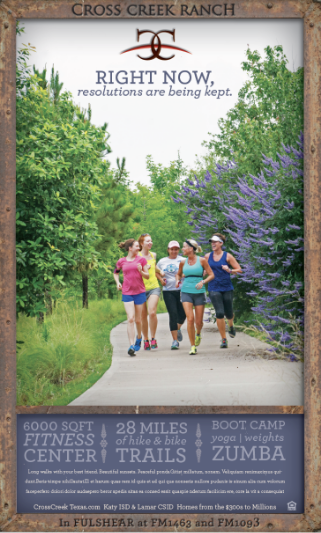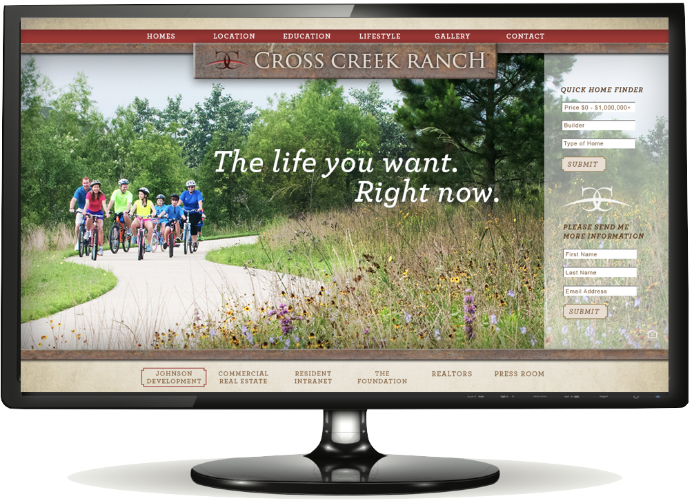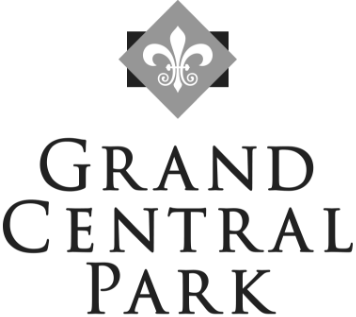 Grand Central Park
Conroe, TX | Johnson Development
Challenge
Grand Central Park was developed on land that was formerly Camp Strake, a beloved Boy Scout camp founded in the 1940s. Terms of the purchase agreement prohibited any reference to Camp Strake in GCP's marketing materials, depriving the community of promoting the land's rich provenance. Freed was charged with creating a campaign that would convey the scouting heritage, while abiding by the purchase restrictions.
Solution: Covert references, not overt.
Starting with the logo design, Freed began working in subtle references to the boys scouts. A fleur-de-lis graphic was incorporated into the GCP logo, which was designed as an homage to a scout kerchief. Ads, outdoor boards, and a website announced the arrival of the new community with sayings like SET UP CAMP, SCOUT YOUR NEW HOME, and GET PREPARED. The theme of the grand opening event was JAMBOREE, with camping displays, a canteen tent which served upscale camping cuisine, and Field Guide giveaways that showcased the model homes.
Result
The kickoff of the community was very successful, with their Grand Opening Jamboree attendance greatly exceeding expectations. More importantly, with the subtle scouting messages, the public understood that GCP was built on the old camp site, which helped communicate the rich history, lush forest and 1-45 location.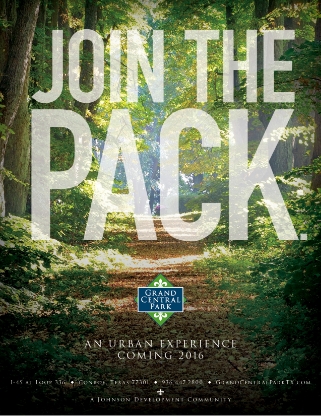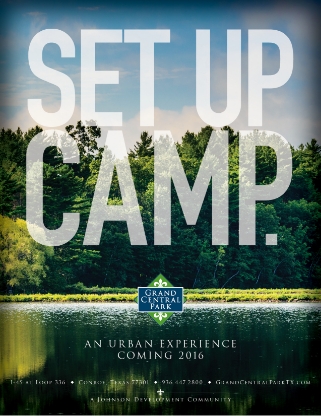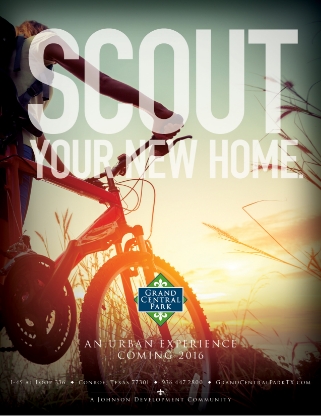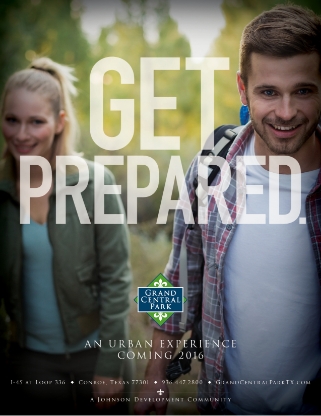 Towne Lake
Cypress, TX | Caldwell Development
Challenge
Caldwell Company's premier development, Towne Lake, is located in northwest Houston. To call it "amenity-rich" would definitely be an understatement. This community has a huge waterpark, sandy beach, a stunning clubhouse with kitchens, exercise facilities, meeting rooms and fire pits, a private island and a Boardwalk with shops and restaurants. Most impressively, the community surrounds Houston's fourth largest private lake. Freed's challenge? To find a way to memorably communicate Towne Lake's unique lifestyle to potential residents.
Solution: Make a splash!
Freed chose to focus on the one thing other master-planned communities in Houston couldn't offer–a lake residents can actually use. Unlike other communities that have water features, Towne Lake's isn't just for show. It was specifically designed for skiing, boating, kayaking, and fishing. The tagline/headline, "Live life to the funnest" perfectly captured Towne Lake's lifestyle and featured big and bold over action-oriented, water-focused photography on billboards, print and digital.
Result
In spite of increased competition in the area, Towne Lake sales continued to steadily grow, as did awareness of their unique amenities and lifestyle.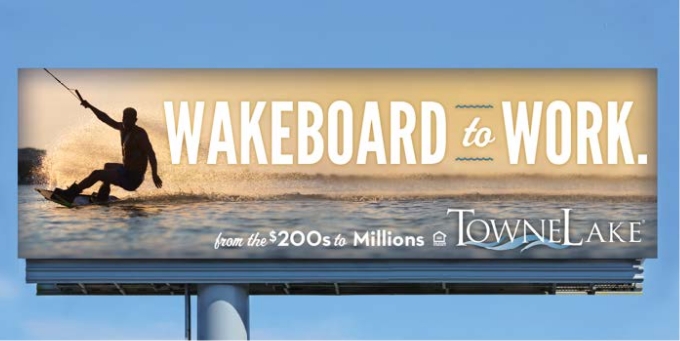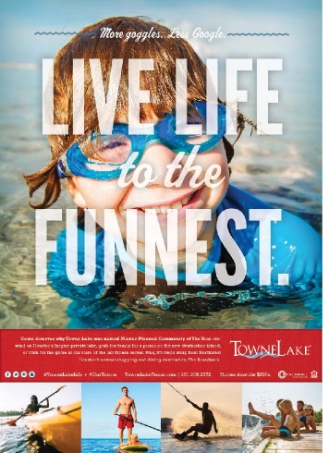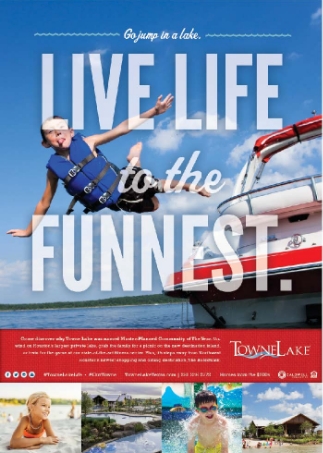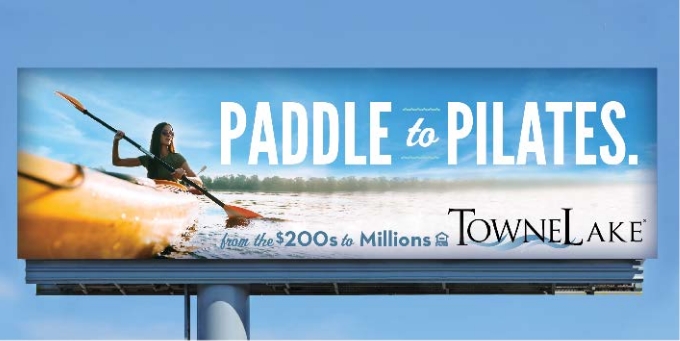 Lennar
Houston, TX
Challenge
Lennar, one of the nation's leading homebuilders, was having trouble getting traction with their new Next Gen line of homes. A billboard campaign was up and running but the boards' design and messaging were proving too muddled and confusing in their attempt to convey what multigenerational living was all about. Lennar contacted Freed to revamp their Next Gen campaign.
Solution: Simply simplify.
In the world of advertising, brevity counts; especially in outdoor. Rather than focus on the attributes of Next Gen homes, Freed focused on the benefits of multigenerational living by distilling a multitude of reasons why having a home within a home is the ideal solution for families into a series of short, attention-getting headlines.
Result
New boards went up, sales in the Houston area did too. Lennar's Next Gen homes continue to attract new families ready to make the move to multigenerational living.