We've blunted the encroachment of charter schools for one of the state's largest ISDs. We've bolstered enrollment for a bevy of community colleges. We even elevated the profile of a small school at a major university. When it comes to advertising and marketing in the education segment, Freed has the experience and expertise it takes for your school or district to shine.
San Jacinto College
Victoria College
University of Houston Continuing Studies
Cypress-Fairbanks ISD
Katy ISD
University of Houston Eye Institute
- University of Houston Continuing Studies -
- Cypress-Fairbanks ISD -
- University of Houston Continuing Studies -
- Cypress-Fairbanks ISD -
- University of Houston Continuing Studies -
- Cypress-Fairbanks ISD -
- Cypress-Fairbanks ISD -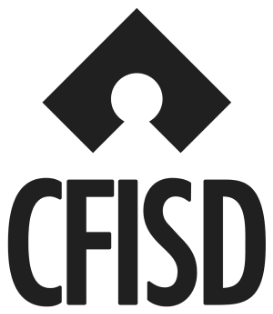 Cypress-Fairbanks Independent School District
Cypress, TX
Challenge
CFISD is one of the most outstanding school districts in Texas but was concerned about the burgeoning popularity of charter schools and the loss of revenue that could possibly mean for the district. Adding to their concerns, was that charter schools are unregulated, meaning students may not get the quality education they would at a CFISD school. CFISD wanted to tout all that it brings to the community they serve and show why CFISD offers the best education for area students.
Solution: Make everyone a cheerleader!
Freed created a campaign that turned area influencers–like pastors, administrators, and business owners–into actual cheerleaders for the district. They delivered messages about how the district helped keep property values up and crime down, and why CFISD was a such valuable part of the community. Broadcast, outdoor, digital and a microsite helped get this message out to area residents.
Result
Charter schools have not encroached on the district as feared. CFISD continues to keep their quality education message out there and is embarking on their sixth year with Freed.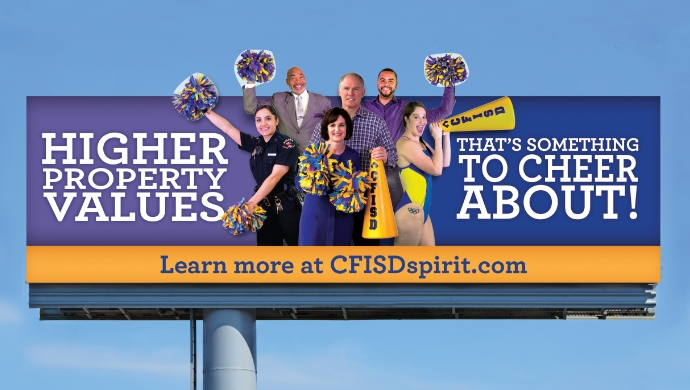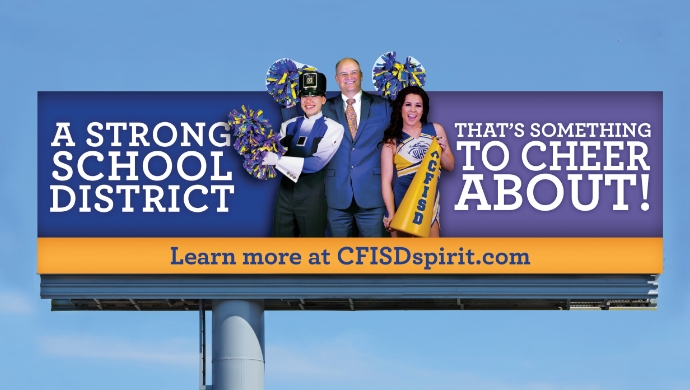 University of Houston- Continuing Studies
Houston, TX
Challenge
UHCS had a simple goal: increase awareness and enrollment. What wasn't simple? Creating messaging for a division with so many disparate parts. Continuing Studies included prep courses for tests like the GREs and LSATS and certificate classes like Six Sigma. They even offered classes for new careers such as Court Reporting. Creating messaging that would resonate with recent grads as well as a seasoned business force would be a daunting task.
Solution: Mass media for the masses. Digital for the classes.
To increase awareness, and challenge potential students to better their careers, Freed used inspirational messages on outdoor boards throughout the city. To increase enrollment, targeted digital ads touted specific course offerings and included links to enroll in individual classes. What's more, all creative was designed to work within the strict University of Houston graphic standards.
Result
Not only were our UHCS clients thrilled with the campaign, the University's administration was particularly impressed with the campaign's attention-getting 
messaging and how well it connected with the target audience.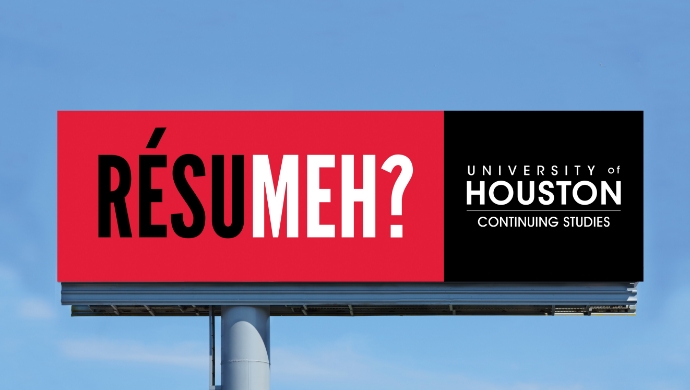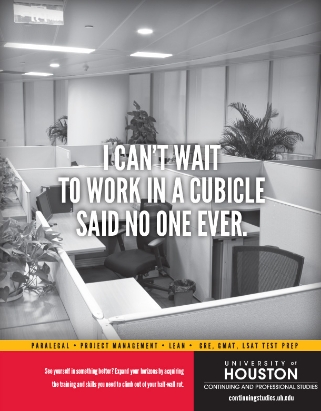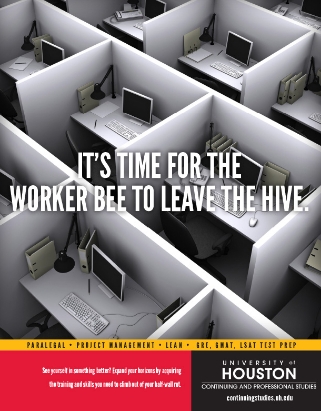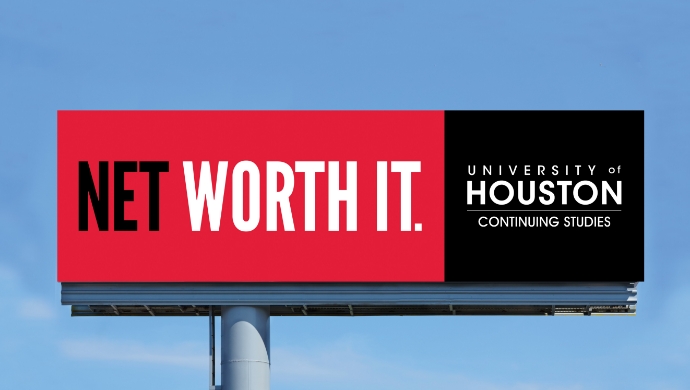 San Jacinto College
Houston, TX
Challenge
San Jacinto College had been running the same campaign for years, and felt it had become stale and that they needed a refresh. Creating a new campaign would be challenging because it had to accomplish several goals: be student focused, work in Spanish, and show the college's commitment to their students with affordable tuition, flexible classes and a multitude of course offerings.
Solution: Branding cut INTO the clutter.
Freed decided that the best spokespeople for the college would be the students themselves, sharing their experience and career goals. The name of the college became a sentence, combining it with different career paths. San JacINTO music. San JacINTO nursing. San JacINTO welding. The strong branding made memorable messages that cut through the community college clutter.
Results
The school was proud of its new campaign, and thrilled that it had a polished and professional "university" look. The concept worked well in all media, from television to digital to outdoor, translated well to Spanish and is experiencing the same longevity as their previous campaign, by still going strong after three years.