We've helped the Texans prevent a black out. Introduced Houston's first ever Autoboative Show. Put Naskila Gaming on the map–literally. And revved up excitement for the Houston Auto Show, even in the middle of a pandemic. When it comes to entertainment, we know how to tap into FOMO and create a desire to experience events firsthand.
Naskila Gaming
The Houston Texans
Houston Auto Show
- The Houston Auto & Boat Show -
- The Houston Auto & Boat Show -
entertainment case studies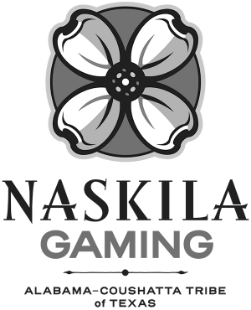 Naskila Gaming
Livingston, TX
Challenge
Naskila gaming wasn't having much trouble getting people from East Texas to visit their gaming center just outside the town of Livingston, they just weren't getting enough of the "higher tiered" players they were looking for. Naskila needed a way to attract this group (primarily from the Houston area) away from the Louisiana casinos that they were accustomed to visiting.
Solution: Put Naskila on the map. Literally.
Playing with Texas' rich tapestry of facts, myths and legends, Freed created a campaign designating Naskila as the "Luckiest Spot in Texas." A targeted mix of television, radio, outdoor and digital media was launched to raise awareness about Naskila, letting Houston's thrill seeking gamblers know that Texas has its very own gaming venue only an hour away, "just up the road in Livingston."
Result
Freed's targeted campaign connected with the right target, namely Houstonians. Within a month of launch, Naskila's YOY cash-in totals continue to grow at a record pace.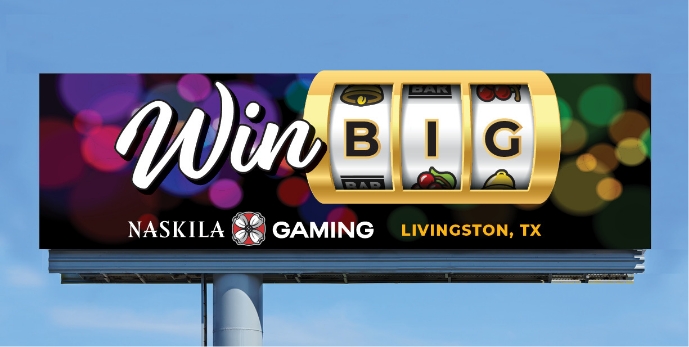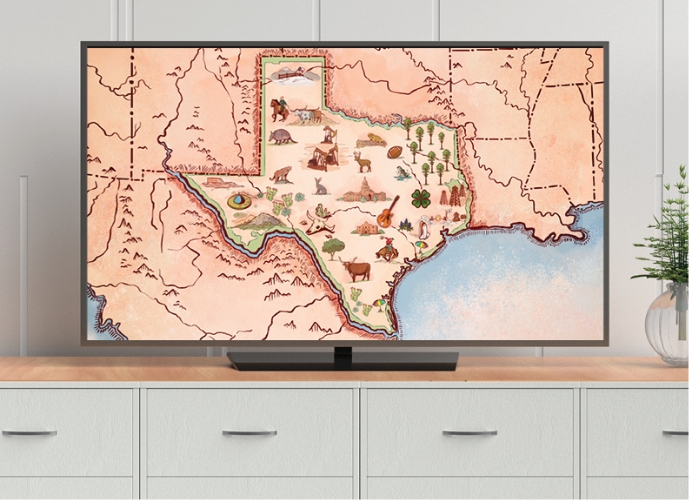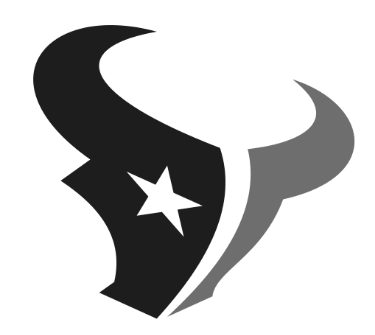 Houston Texans
Houston, TX
Challenge
At one time in the franchise's early years, the Houston Texans were having trouble selling seats. 7,500 upper level "nosebleed" seats were the main problem. No sellout meant a TV blackout–the last thing the struggling team needed.
Solution: Make bad seats badass.
Freed set out to transform the upper deck from low-earning single-game seats into a high-demand season ticket destination. Thus Gridiron, Texas was born. Signage, swag, and advertising positioned the upper deck as "purists' seats" where true fans watch the game. A U.S. post office was even established at the stadium, allowing Gridiron, TX to appear on Google Maps and on post card stamp cancellations. By changing perception we were able to create a true sense of identity, enhance fan experience and the build the prestige of being a resident of the "Loudest Town in Texas."
Result
One of the least desirable parts of the stadium became one of the hottest tickets in town. There was even a waitlist for Gridiron, Texas season tickets. Blackouts were avoided. And years later, Gridiron, Texas is still going strong.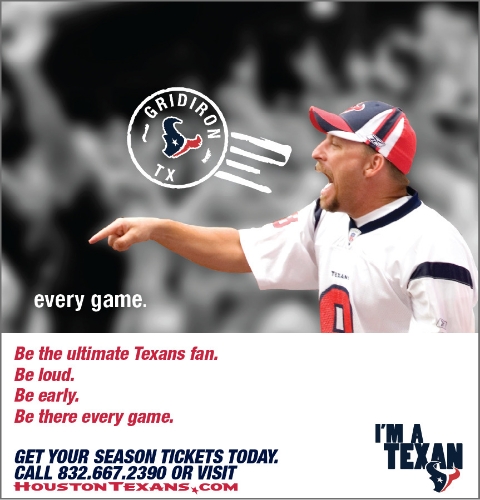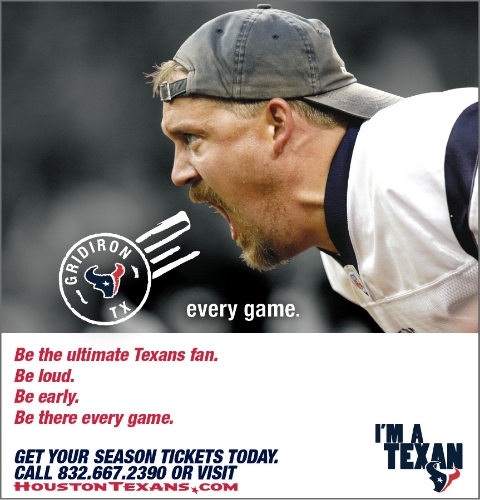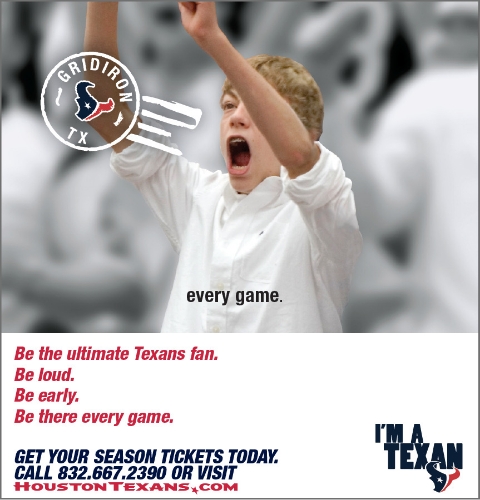 LPGA
Sugar Land, TX
Challenge
The LPGA was having difficulties nationwide attracting fans and remaining relevant in the male-dominated golf landscape. An extended absence from Texas tournaments and the changing face of women's golf to a more international field, had reduced its popularity significantly. Overall, the LPGA simply lacked awareness–a condition they hoped to change with this Texas event.
Solution: Get playful with the star players.
Research showed that with women's golf, men are the primary audience, both in TV viewership and in attendance at events. And they are also most likely to buy branded merchandise. Freed realized the world-class athletes' play would attract the golf purists to the event, but the campaign would have to have broader appeal to attract more casual fans with no prior interest in the LPGA. The creative work featured famous LPGA players, with tongue-in-cheek headlines based on old stereotypes about women. This playful approach combined with Texas inspired graphics, proved to be a recipe for success.
Result
Freed's work won several awards for marketing campaign and outdoor promotion in a worldwide competition among all LPGA events. Sales of identity pieces, logo wear and souvenirs far outpaced the most optimistic predictions of tournament organizers. Attendance also exceeded expectations despite weather that interrupted portions of the event.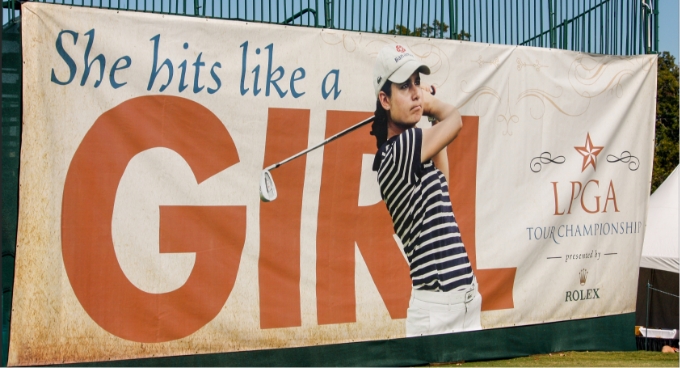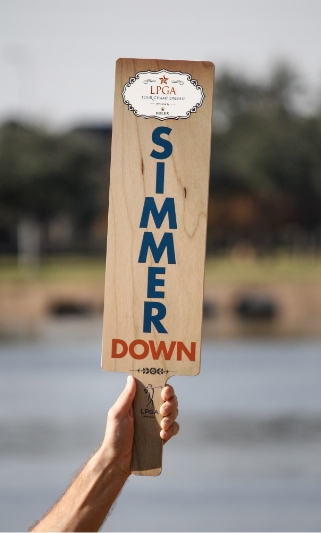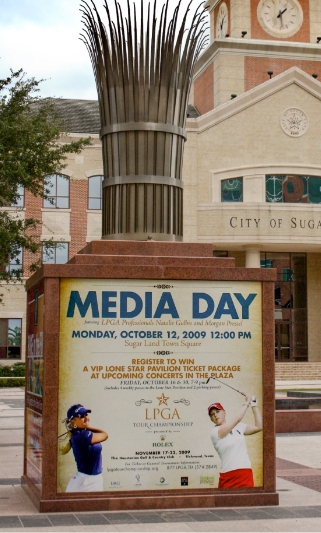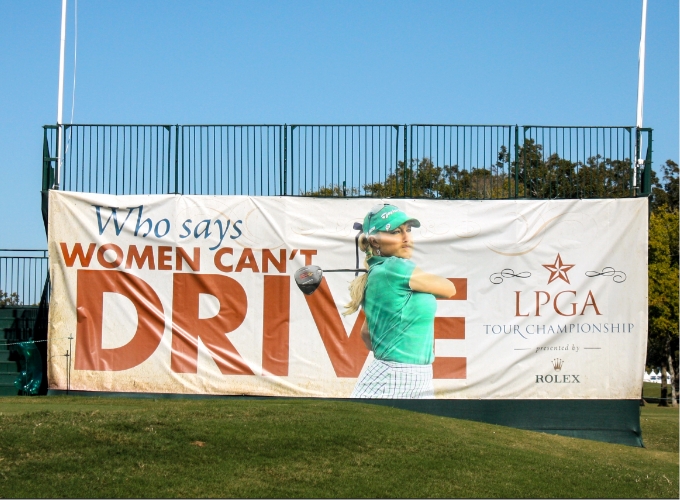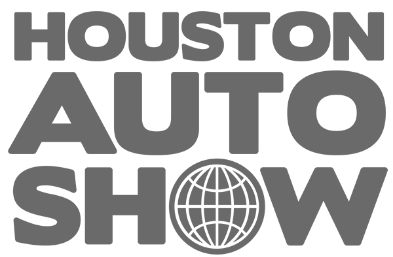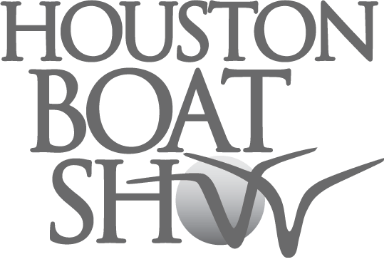 Houston Auto and Boat Show
Houston, TX
Challenge
The COVID pandemic and the resulting chip shortage did a number on the auto and boating industries, causing major production delays. And two of Freed's clients, The Houston Auto Show and Houston Boat Show were having trouble attracting enough exhibitors for their annual events. It was decided, that for the first time ever, they would join forces in order to create an attendance-worthy show. Freed was tasked with combining the marketing efforts and create messaging that would entice people to this new event.
Solution: Teamwork makes the dream work.
Freed strived to make sure each show felt like it was getting equal billing and representation. Graphically, a splash was incorporated to show the fun of boating, while a metallic background was added to represent the chrome on autos. Freed even created the term AutoBoative to describe the new dynamic duo.
Result
The results were beyond all expectations. Even with COVID issues, the Autoboative Show had great attendance, and customers still felt like they got their money's worth in spite of the lower number of exhibitors.